Our Cancer Program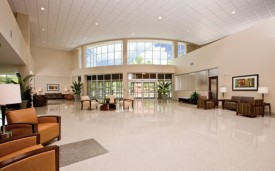 We help our patients beat cancer by providing them with advanced, quality, state-of-the-art care.
We do that through physicians and providers who are passionate about their patients and their work and use a comprehensive approach.
We do that with a commitment to community support of organizations devoted to patients with cancer. And we do that in a setting that is a source of support.
Designed to be soothing and peaceful, The Cancer Center on the campus of North Florida Regional Healthcare in Gainesville, Florida is a place of help, hope and healing.