Our medical physicists work closely with our doctors during planning and treatment delivery. They oversee the work of the dosimetrist to ensure that complex treatments are properly designed. Their responsibilities also include making sure the equipment works properly by taking precise measurements and performing safety checks on a regular basis.
Kathryn Hisey, DMP, DABR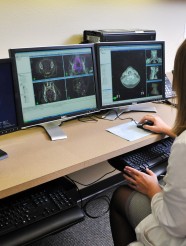 Kathryn Hisey, DMP, DABR earned her undergraduate degree in Nuclear Engineering from the University of Florida. She went on to complete her Professional Doctorate degree and clinical residency in Medical Physics at Vanderbilt University in Nashville, Tennessee.
She returned home to Gainesville in 2015 to join the North Florida Radiation Oncology team. In her free time, she enjoys being active outdoors and spending time with her husband and new baby girl. Request More Information
Jan Allen Pursley, MS, DABR, Chief Medical Physicist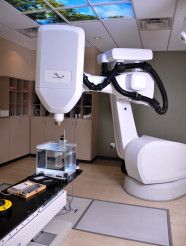 Jan Allen Pursley, MS, DABR completed his undergraduate degree in Chemistry from Purdue University. After a long career in the biotechnology field, he returned to complete a Master of Science in Medical Physics at Duke University. Prior to his arrival at North Florida, he has worked in the medical device industry to perfect dose measurement tools, commissioned linear accelerators in clinics around the world, and performed medical physics services for clinics in North Carolina and Puerto Rico.
Jan enjoys scuba diving, and he and his wife love spending time in the wonderful parks of North Florida. They also volunteer at many of the local animal rescue facilities.
Alan Bako, MS DABR
Alan Bako completed his undergraduate degree in Biology from Montclair State, NJ and his graduate degree in Medical Physics from University of Missouri. He is an accomplished physicist with over 20 years of experience in Radiation Therapy. He joins us from his last position as a medical physicist at Queens Medical Center in Honolulu HI.