CyberKnife Robotic Radiosurgery uses a radiation accelerator mounted on a robotic arm to treat malignant and benign tumors anywhere in the body. This radiosurgery tool allows us to treat areas that were previously not considered treatable. The CyberKnife is especially helpful in treating patients who are not candidates for surgery, conventional radiation or those who have maxed out their chemotherapy.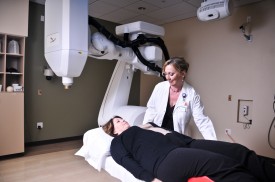 CyberKnife treatment is delivered in 1 to 5 sessions, resulting in little or no side effects. This procedure is done in the outpatient setting and does not require incisions, anesthesia or time for recovery. Patients with tumors of the brain, spine, prostate, liver, pancreas, kidney and gynecologic tumors may be treated with the CyberKnife.
The CyberKnife system is unlike any other radiosurgery system available today. It is the only system that tracks the tumor and locks on target before each beam is delivered. Typically, 150 beams are used per treatment. The precision of the CyberKnife ensures critical structures are not damaged by high doses of radiation.
---
Make an appointment to connect with a professional and learn more about this treatment.